---
Etienne Michaud
ww2.glenbow.org



"Image No: NA-3549-1

Title: Etienne Noel Michaud, president of Free French in Alberta.

Date: [ca. 1913-1919]

Remarks: In leather chaps, holding axe, and with tools in cummberbund. Mr. Michaud was a merchant seaman who, after 1905, settled on a ranch in Big Valley area on the Red Deer River, Alberta. He served as a wireless operator with the French Navy during World War I and was an instructor of secret codes. After returning to Canada in 1919 Mr. Michaud operated La Parisienne Drug company in Edmonton. In 1930 he sold the business and worked for the government.
"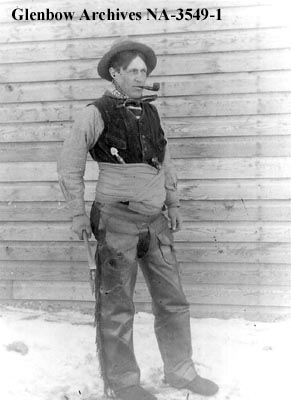 Laurent Laloup le mardi 11 novembre 2008 - Demander un contact